Photo: Ginebra Ako Awards Year 3 hosts Andrei Felix and Pauline Verzosa.
Ginebra San Miguel Inc. (GSMI) recently held the "Ginebra Ako Awards Year 3: Pagkakaisa sa Gitna ng Pandemya" in a virtual awarding ceremony streamed via Ginebra San Miguel's official Facebook page.
GSMI continued with its annual "Ginebra Ako Awards," despite the COVID-19 pandemic, seeing the need for individuals and organizations to be recognized especially at this time when Filipinos look up to real-life heroes for encouragement and inspiration.
The "Ginebra Ako Awards Year 3: Pagkakaisa sa Gitna ng Pandemya" shines the spotlight on people who desire to unite the country amid the COVID-19 pandemic that is in line with the brand's latest campaign "One Ginebra Nation."
Since 2018, the Ginebra Ako Awards have been honoring the hero in every Filipino, and for this year, the award-giving body salutes the COVID-19 heroes in three categories: "Pilipino Ako Award," individual or organization that emphasized the value of unity in advancing their causes; "Matapang Ako Award," person or group who went beyond their call of duty in uniting their fellowmen for a common purpose; and "Lalaban Ako Award," person or institution that used their talent and exemplified excellence in their craft to help those in need.
The awardees recognized for their contributions during the COVID-19 pandemic are Martin Xavier Peñaflor, Chief executive officer of Tangere for Pilipino Ako Award; Minnie Pascual Klepacz, a nurse based in the United Kingdom and one of the proponents of Black Asian and Minority Ethnic (BAME) Network and the Filipino Nurses Association United Kingdom (FNA-UK) for Matapang Ako Award; and the Emergency Quarantine Facility project led by Dr. Glenn Angeles and Architect William Ti for Lalaban Ako Award.
For this year, commendations were also given to the runners-up from each award category: Sr. Corrie Evidente, administrator of Hospicio de San Jose (1st runner-up), and Ma. Cristina C. Evangelista, founder and project head of Rapid Deployment Hospitals (2nd runner-up) for Pilipino Ako Award; Zion Enrico Roque Licup, Co-founder of iUplift Philippines (1st runner-up) and Coleen Danielle Natividad, Founder of Food For Frontliners PH (2nd runner-up); for Matapang Ako Award; and Anthony James Bautista, Ph. D of LISA Logistic Indoor Service Assistant Robot (1st runner-up) and Dr. Francis Aldrin Uy of USHER Technologies (2nd runner-up) for Lalaban Ako Award.
Awardees per category each received ₱100,000, a certificate, and a trophy, while the runners-up per category received ₱25,000 and a certificate.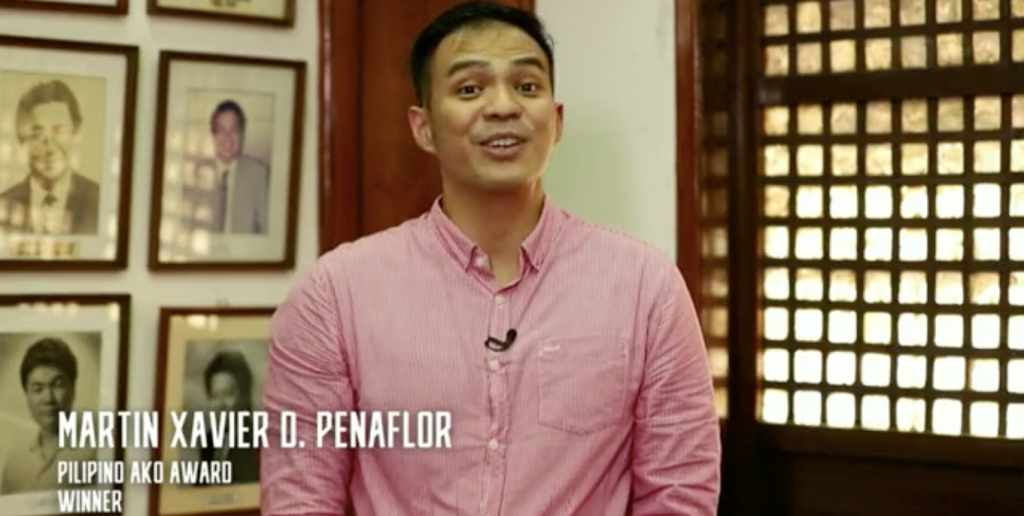 Ginebra Ako Awards Pilipino Ako Awardee Martin Xavier Penaflor of Tangere App.
PILIPINO AKO AWARD
The young CEO and the chief architect of Tangere, Martin Xavier Peñaflor, 35, mobilized his market research mobile application to accurately and quickly understand the situation on the ground and to figure out how to get help to those who have been affected by the Taal Volcano eruption, COVID-19 pandemic, and Typhoons Rolly and Ulysses.
As an incentivized mobile application, Peñaflor also attributes the success of their efforts to the community of Tangere users who donated their points for the purchase of essential goods for different calamity victims and those that were affected by COVID-19. "We also reached out to fisherfolks and farmers during the pandemic who could not sell their goods. We did a quick survey and sent it to the right people who can help them out," adds Peñaflor, whose dream is to help more SMEs to have a competitive advantage with market research by giving them insightful and real-time data.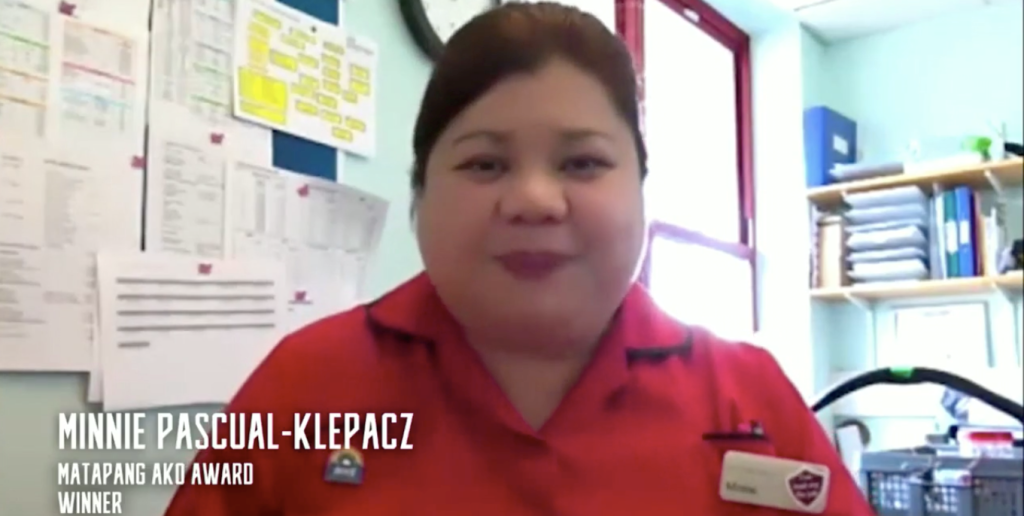 Ginebra Ako Awards Matapang Ako Awardee Minnie Pascual Klepacz of Black Asian Minority Ethnic Network, United Kingdom.
MATAPANG AKO AWARD
Minnie Pascual Klepacz, 40, has been working in the United Kingdom as a nurse for 20 years. A matron for ophthalmology at University Hospitals Dorset NHS Foundation Trust, she leads the Black Asian Minority Ethnic (BAME) Network that provides risk assistance to healthcare workers. At the height of the pandemic, Klepacz also formed the Filipino Nurses Association United Kingdom (FNA-UK) to address the concerns of Filipino nurses and provided support to them even outside of work including cooking meals for colleagues who were recovering after being in intensive care due to COVID-19. She also organized virtual community events to offer comfort and reassurance to Filipino nurses.
"On the peak of the pandemic, kailangan kong mag step up para matulungan ang mga kasamahan nating Pilipino kaya nabuo ang Filipino Nurses Association. Kahit na pagod hindi mo mararamdaman ang pagod pag nakikita mo silang masaya tapos kapag nakikita mong gumagaling at bumabalik na sila sa trabaho. 'Yun ang talagang nagbibigay sa akin ng lakas ng loob. Kailangan mong tapangan ang sarili mo," says Klepacz.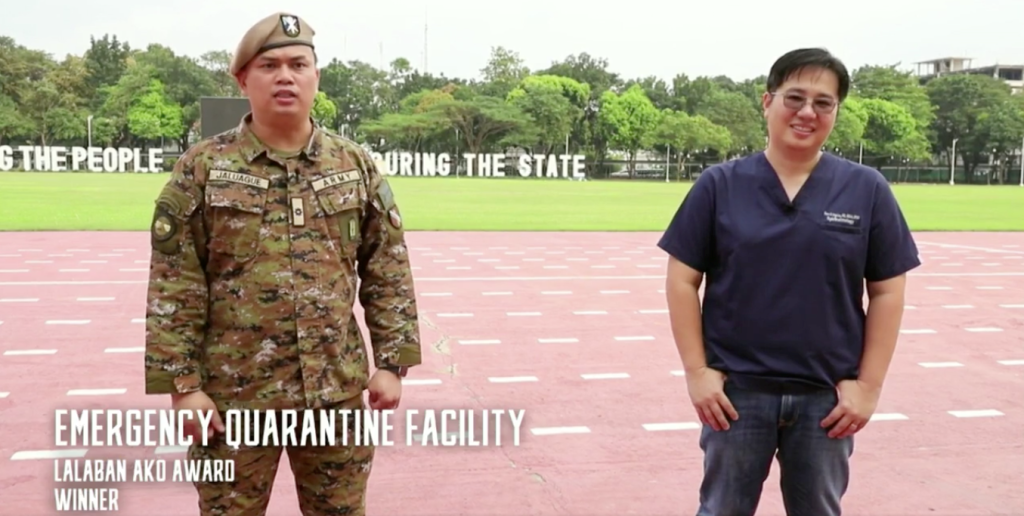 Ginebra Ako Awards Lalaban Ako Awardees Dr. Glenn Angeles and Maj. Carmelo Jaluage of the Emergency Quarantine Facility.
LALABAN AKO AWARD
Started by childhood friends Dr. Glenn Angeles and architect William Ti as a response to the calls for help amid rising COVID-19 cases, the Emergency Quarantine Facility (EQF) provided hospitals more space to safely and effectively treat COVID-19 patients, as well as give them space for healthcare workers to rest and recuperate, or even isolate if they have been infected. Singapore even adapted the EQF design proving Filipino ingenuity.
The duo also gathered other friends and colleagues Engr. Dan Quiaoit, Prim Paypon, Maj. Carmelo Jaluague, Lt. Col. Banjo Badayos to form the core team of EQF.
The EQF can be built within five days using standard materials and tools found in hardware stores. In four months, the group, with the help of the Armed Forces of the Philippines (AFP), was able to build a total of 75 EQFs that can accommodate over 1,200 people capacity of patients or frontliners. It is also equipped with Wi-Fi providing isolated COVID-19 patients ways to entertain themselves as well as more time with their loved ones through virtual interactions.
"We decided on the temporary facilities to help the hospitals decongest the overwhelmed healthcare system of Manila, and at the same time to prevent families from being broken apart by the virus. Everybody was working together to help our fellow Filipinos. Ganado kaming tumulong because we believe in nation-building. With nation-building, we can fight and conquer this COVID-19 pandemic and rise again," relates Angeles.   
CHAMPIONING THE FILIPINO SPIRIT FOR 186 YEARS
For the past 186 years, Ginebra San Miguel has been part of the Filipino's life. As one of the country's oldest brands, it has evolved from a liquor beverage to a symbol of Filipino excellence, resiliency, hope, courage, and passion – values that Ginebra Ako Awards winners personified.
Ginebra San Miguel Inc. (GSMI) is the producer of Ginebra San Miguel products, the world's largest-selling gin according to leading global drinks journal Drinks International. It is also a 15-time Gold Quality Label awardee of the Monde Selection International Quality Institute.