What do Filipinos and the British share in common? Well, both love their gin.
Ginebra San Miguel Inc. (GSMI) and the British Chamber of Commerce Philippines (BCCP) celebrated World Gin Day in the Philippines highlighted by a ceremonial 'tagay' at the Tower Club in Makati. The celebration was an opportunity to share insights about how a love for the distinct distilled spirit binds both Filipino and British cultures together.
BCCP chairperson Chris Nelson led the ceremonies, which included a short talk by events committee chair Sara Macleod on the history of gin in Europe. She cited that gin, which was introduced to the United Kingdom in the 1600s, endures as one of the most popular drinks in their country today.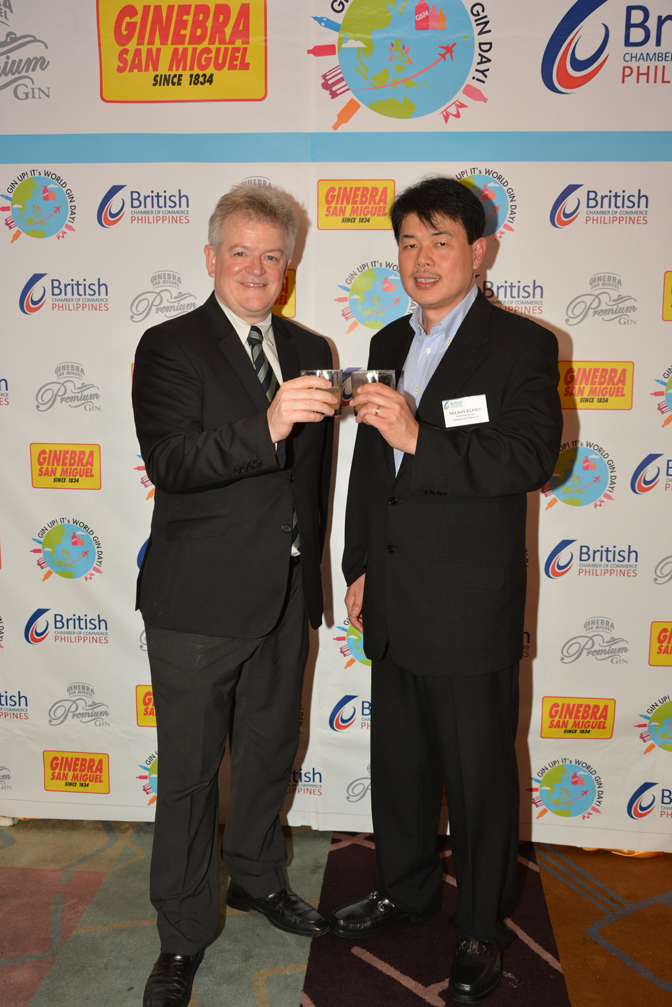 In the Philippines, Ginebra San Miguel has been enjoyed for 180 years. It has also been acknowledged as the largest-selling gin brand all over the world. The drinking culture is so strong in the country that Filipinos have a unique way of drinking the beverage after a long hard day at work or during special celebrations. With a "tagay" ritual, the revelers form a circle around which a common glass is passed. One drinks from it and passes the glass on, to be refilled for the next round.
GSMI vice president and marketing manager Nelson Elises explained the drinking experience to the foreign guests at the World Gin Day event, expressing it as a form of camaraderie and togetherness. "Tagay is a custom that strengthens bonding among drinkers," he said, as he invited the guests to a ceremonial toast done Pinoy-style.
While usually enjoyed in the UK as gin and tonic, the pioneering gin in the Philippines has been given a modern spin via five exciting concoctions using Ginebra San Miguel Premium Gin served at the event: Calamansi Surprise, Zing ala Sling Manila Swing, Red Twisted Snapper, Watermelon Fizz, and Sweet Lemony Martini. These were thoroughly enjoyed by all the guests, with the Calamansi Surprise (Premium Gin with Philippine lemon, simple syrup, and smashed basil) and the Twisted Red Snapper (Premium Gin blended with tomato juice, barbecue sauce, and Tabasco, garnished with cocktail onion, pitted olives and a crispy bacon strip) garnering the most orders.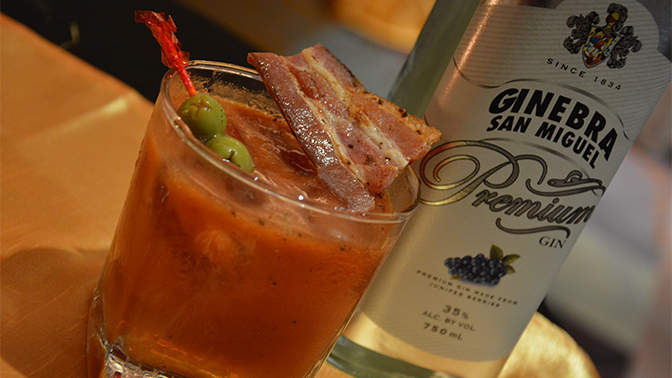 "We want to show that gin is very flexible," said Premium Gin assistant brand manager Giselle Villanueva. "You can mix it with practically anything, ranging from soda and powdered juices to more complex ingredients."
More Ginebra San Miguel were made available in participating bars during the month-long celebration with special promo bundles that included "pulutan" and limited edition Ginebra San Miguel merchandise, offered at several popular hotspots in the metro. Barangay Ginebra San Miguel Gin Kings fans were also able to meet their favorite cagers at special World Gin Day events, where they were given a chance to win special prizes at games and raffles.
World Gin Day was founded by British blogger Neil Houston in 2009 and is celebrated every 2nd Saturday of June. What started as a day to bring his friends together to drink gin has grown into a worldwide celebration. Aside from the Philippines, World Gin Day events were also held in the UK, Australia and the US.
Ginebra San Miguel remains the world's no. 1 selling gin according to the annual list of top-selling beverages in the world, The Millionaires Club 2015, by leading global drinks journal Drinks International. Ginebra San Miguel also bagged recently its eight Gold Quality Label from the 2015 World Quality Selections of the Monde Selection International Quality Institute.