GINEBRA SAN MIGUEL LAUNCHES 'GIN ON THE GO'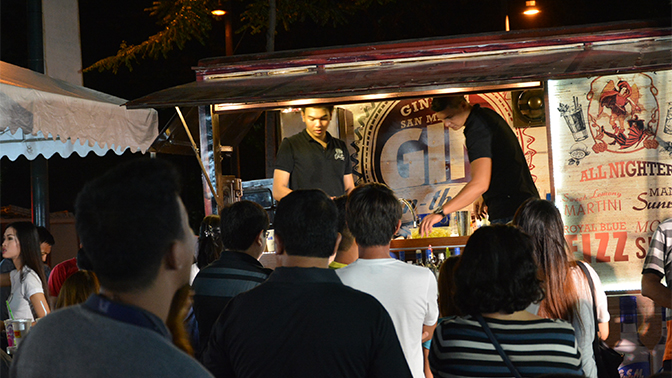 MANILA, September 30, 2015 – There is a new way to enjoy the world's no. 1 selling gin, Ginebra San Miguel, during happy hours.
Ginebra San Miguel Inc. (GSMI) launches the "Ginebra San Miguel Gin On The Go," a first-of-its-kind mobile cocktail bar that will kick off its tour of the hottest food hubs and gimmick places in the metro on October 2, Friday, at the Midnight Mercato, Bonifacio Global City in Taguig.
Drink your heart out with your favorite Ginebra San Miguel, GSM Blue, GSM Blue Flavors and Ginebra San Miguel Premium Gin. Enjoy unique and artfully crafted concoctions such as Manila Sunrise, All Nighter, Blue Royal Fizz, Mojito Slush and Sweet Lemony Martini, among many others, at only P40 per cup or P150 for a five-set sampler.
"At the 'Ginebra San Miguel Gin On The Go,' we offer Ginebra San Miguel premium mixes at affordable prices. While food trucks have become the go-to places to eat and dine, the 'Ginebra San Miguel Gin On The Go' will definitely be the trendiest place to hang out and unwind," says GSMI VP and marketing manager Nelson Elises.
Aside from gin mixes, visitors will also be treated to music and entertainment, plus a chance to win raffle prizes. While for avid fans of the Barangay Ginebra San Miguel Gin Kings, premium items such as caps and shirts are available at reasonable prices.
For more details on the next stops of "Ginebra San Miguel Gin On The Go," check out the official Facebook fanpage www.facebook.com/barangayginebra or log on to www.ginebrasanmiguel.com.