GINEBRA SAN MIGUEL LAUNCHES MILYUN-MILYONG GANADO CAPS AND SELYO RAFFLE PROMO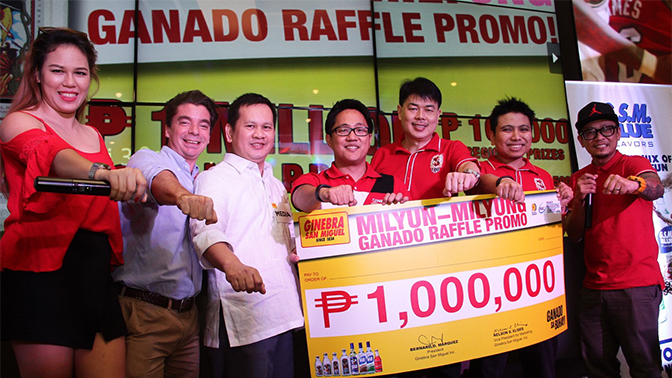 MANILA, September 9, 2015 – Ginebra San Miguel Inc. (GSMI), makers of the no. 1 selling gin in the world Ginebra San Miguel, launches the "Ginebra San Miguel Milyun-Milyong Ganado Caps and Selyo Raffle Promo". Millions of pesos in exciting prizes will be given away in the weekly, monthly and regional draws, and in the national grand draw where a lucky winner will get to take home P1 million.
The nationwide promo, which will run from September 14 to December 4, is in partnership with the country's leading radio networks Manila Broadcasting Company (MBC) and Bombo Radyo Philippines (Bombo). The Grand Draw is on December 5.
"We are very happy to announce the start of our national raffle promo for 2015, which is part of our 'Ganado sa Buhay' campaign," says GSMI vice president and Marketing manager Nelson Elises. "The 'Ginebra San Miguel Milyun-Milyong Ganado Caps and Selyo Raffle Promo' is an early Christmas gift to our loyal consumers, many of whom work very hard to provide for their families. This is our way of giving back to our millions of kabarangay for their continued patronage and support. Para mas maging ganado pa sila sa buhay, at mas maging masagana pa ang kanilang Pasko," adds Elises.
Apart from the P1 million grand prize, regional winners from Metro Manila, North Luzon, South Luzon, Visayas and Mindanao will take home P100,000 each, one winner of P50,000 per region each week, plus more cash prizes to be given away in the monthly and weekly draws.
To join the raffle, simply write down complete name, age, address, contact number and signature on a sheet of paper. Enclose entries in a white, legal-size envelope along with any of the following proofs of purchase: 3 seals of any variant of Ginebra San Miguel, 3 seals of Vino Kulafu Classic, or 1 cap of GSM Blue or GSM Blue Flavors.
Participants may drop their entries at the nearest drop boxes located at Bombo and MBC radio stations, or at participating supermarket outlets nationwide. Final submission of entries for the Grand Draw is on December 4.
Ginebra San Miguel remains the world's no. 1 selling gin in the annual list of top-selling beverages in the world, The Millionaires Club 2015, by leading global drinks journal Drinks International. Ginebra San Miguel also bagged recently its eight consecutive Gold Quality Label from the 2015 World Quality Selections of the Monde Selection International Quality Institute.
For more details on this exciting promo like the official Facebook fanpage of Ginebra San Miguel www.facebook.com/barangayginebra or log on to www.ginebrasanmiguel.com.