Ginebra San Miguel Inc. (GSMI), maker of the world's no. 1 selling gin Ginebra San Miguel, recently led the celebration of World Gin Day in this part of the globe with simultaneous events held in key cities all over the country, including Manila, Quezon City, Bataan, Batangas, Cebu, Davao, Tacloban and Boracay.
Miss Universe Great Britain 2016 Jamie-Lee Faulkner joined the celebration held in Quezon City where gin lovers converged for a night of music, games and free-flowing gin drinks.
"It is a real honor to be a part of World Gin Day celebrations here in the Philippines and also to be a part of the Ginebra San Miguel family. Gin is a really nice and easy drink that you can just enjoy, probably why it is one of my favorite drinks. I would definitely need to take some Ginebra San Miguel back with meand introduce it over there," said the British stunner, who was also introduced as the newest Ginebra San Miguel brand ambassadorand was presented with her own Barangay Ginebra San Miguel jersey.
In an earlier event, the reigning Miss Universe Great Britain got to taste GSM Premium Gin's handcrafted cocktails, the featured Drinks of the Month at the Edsa Shangri-La Manila Pool Bar. While usually enjoyed in the UK as gin and tonic, Ginebra San Miguel gave a modern twist to the juniper-based distilled spirit with unique mixes such as Calamansi Surprise, Sweet Lemony Martini and Mango Paradise.
"Our World Gin Day celebration showed how both Filipino and British cultures are bonded together with our common love for gin," said Ginebra San Miguel brand manager Paolo Tupaz. "Our drinking culture is so strong that Filipinos even have a unique way of drinking gin, which is 'tagay'. As Ginebra San Miguel continues to be the drink in every occasion in the Philippines, we will continue to be part of more World Gin Day celebrations," he added.  
World Gin Day was first celebrated in Great Britain in 2003 and has since grown into a worldwide celebration. Held every second Saturday of June, World Gin Day was the brainchild of British blogger and ginthusiast Neil Houston.
Ginebra San Miguel has extended the celebrations all throughout the month of June as it is the featured drink of the month at selected bars and establishments around Metro Manila. Visitors and tourists in Boracay will also get to sample GSM Blue Fast Mix drinks, the official welcome drinks at the Caticlan Airport for the month of June.
GSMI flagship brand Ginebra San Miguel has been enjoyed by many for 183 years. Ginebra San Miguel is a 10-time consecutive Gold Quality Label awardee of the Monde Selection International Institute for Quality Selections and remains the no. 1 selling gin in the world according to leading global drinks journal Drinks International.
For more on #WorldGinDayPH2017, like the official Facebook fanpage of Ginebra San Miguel www.facebook.com/barangayginebra or log on to  www.ginebra.com.ph.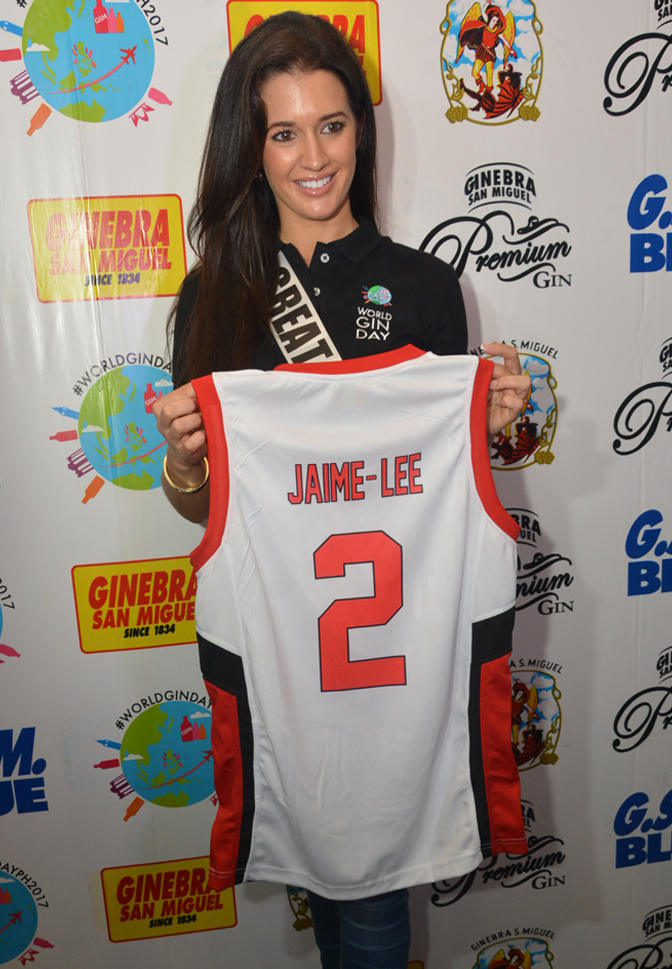 Miss Universe Great Britain 2016 Jamie-Lee Faulkner shows off her Barangay Ginebra San Miguel jersey.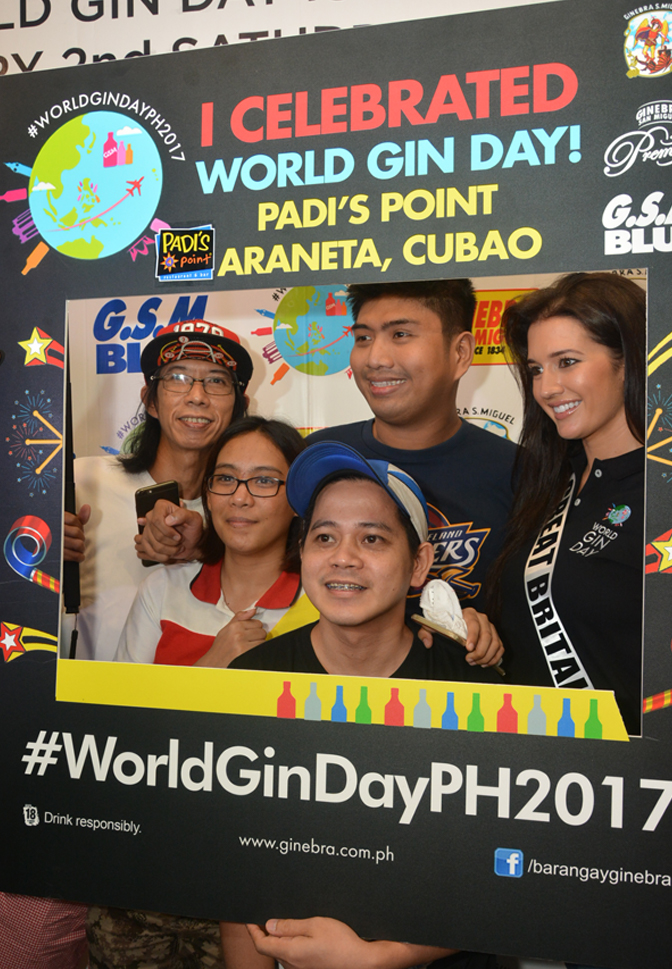 World Gin Day revelers take photos with reigning Miss Universe Great Britain Jamie-Lee Faulkner.