When it was established, Ginebra San Miguel (GSM) Bar Academy's primary goals were to provide scholars an opportunity to change lives through education, to produce globally-competitive and job-ready graduates, and to elevate the quality of the bartending profession in the Philippines through Ginebra San Miguel Inc.'s (GSMI) partnership with the Technical Education and Skills Development Authority (TESDA).
But just on its second year, the Bar Academy has found itself making far-reaching impacts that go beyond education for its scholars and the government institution.
FULFILLING DREAMS
The promise of fulfilled dreams quickly begun for a number of its scholars who were able to find jobs immediately after graduation. Thanks to their industry- standard education and world-recognized National Certificate (NC) II, they are now working as bartenders and bar servers in high-end establishments, and have
taken their first step toward a better life.
For many, the pandemic was the worst time of their lives as it took away their loved ones, their good health, their jobs, and their freedom to live normally. But for Mary Grace Abainza, Jericho Nile Go, and Jhyrus Denver Domingo, it was the time to take a leap of faith and venture into what would be a life-changing opportunity.
Mary Grace, for instance, is now happily working as a server/bartender reliever at Italianni's Magnolia Branch. She is one of the trusted pioneer employees in the restaurant's newly-opened branch and earns sufficient income, plus tips.
A college undergraduate, Mary Grace underwent bartending training because she believed it was the ticket to a better life for her three-year-old twins and partner, a Lalamove rider. Compared to her previous jobs as a call center agent and factory worker, she was certain that landing a job overseas – particularly as a bartender on a cruise ship – would give her a much higher pay and secure the future of her children. But for now, Mary Grace is bent on gaining an edge and earning all the experience she needs from her current job. And so far, everything has been good at work.
"The sales of our restaurant depend on us, and if our service is good, we even receive tips. And thankfully, in all of Italianni's, our branch is Top 1 in sales. My superiors also commended me because I could easily juggle tasks from serving tables to bartending. I can also quickly prepare drinks using the proper ingredients and I'm the only one who could do wine service. It's because these were taught to us at the Bar Academy," she shares.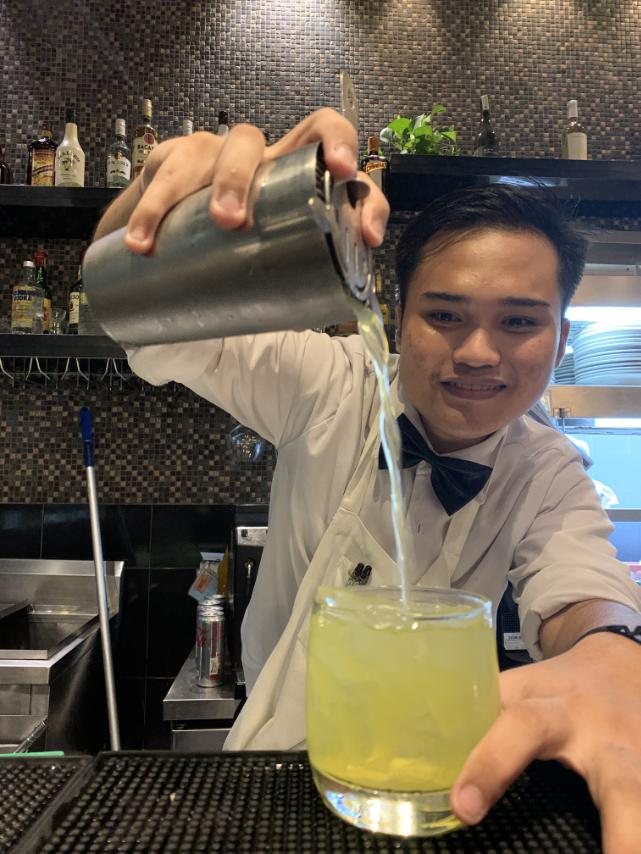 Mary Grace used to have difficulty paying off her debts but now she could even support her children's needs and help her partner with their daily expenses. 
Jericho, on the other hand, was sought out by his manager from a previous on–the–job training stint, to work at Italianni's Uptown Mall as a bartender. What sealed the deal, he adds, was his NC II qualification and his specialized training from the Bar Academy. "He just saw my photos from our graduation and the Bar Academy on Facebook and thought I trained in an actual restaurant and bar. Thereafter, he contacted me and offered me the job," reveals Jericho, who paid it forward by encouraging fellow classmates to also apply in Italianni's and other restaurants of the Bistro Group. 
His extensive bartending education earned Jericho the confidence to concoct mixes at the bar which is even smaller than the one in the Academy.
"Sobrang gamit na gamit ko ang mga natutunan ko! (The knowledge I gained has been very useful in my job). I don't need to ask anymore or look for ingredients in a recipe book for the cocktails I need to make. I know about wine service and I'm not intimidated to use the tools in the bar. My superiors were also impressed because I know the differences between liquors, what they're made of, and how they taste," he shares. Apart from gaining experience in preparation for a job aboard a cruise liner, Jericho is likewise saving money so he could finish his college education – dreams he vowed to his parents before they passed away.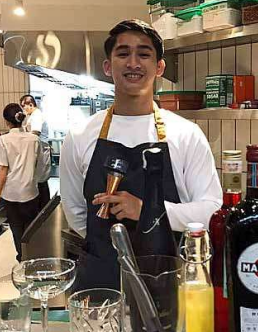 Jhyrus Denver Domingo, meanwhile, is preparing to start his employment at the Ember by Josh Boutwood, one of the restaurants of the Bistro Group in Greenbelt, Makati, along with his classmate and best friend at the Bar Academy, Brillian Del Castillo. 
A junior Hospitality Management student at the Polytechnic University of the Philippines (PUP), Jhyrus could have just focused on school but he chose to receive practical and technical training at the Bar Academy to gain more advantages in his would-be career. And true enough, he acquired the skillset needed to help him thrive in this profession. 
"The Bar Academy had such a big impact on me because I became focused on the career I was pursuing. Others may get easily overwhelmed with the task, but because the Bar Academy has prepared me for it, I believe I wouldn't be. With my NC II, I am now ready to be a bartender," discloses Jhyrus. 
More than that, he says the whole experience helped him cope with depression from not being able to engage in his usual activities like basketball at the height of the pandemic. 
Unlike most classmates who aim to work on cruise ships, Jhyrus is opting to stay in the country for now. "If there's an opportunity to work abroad, why not? But if I could already be stable here and help support my parents and siblings, I would rather stay. It's hard to be away from one's family," he says.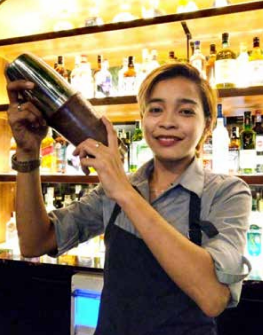 CHOOSING THE BETTER OPTION 
For Angelica Felarca, everything came so fast. She was employed as a bartender only two weeks after her graduation from the Bar Academy. And on her second day of work, she got a P1,000 tip from a very happy customer. 
"There was another applicant, a male bartender who had more experience than me but I was the one hired," shares Angelica. She credits her TESDA education as the main reason for the numerous job offers. In fact, Angelica declined an offer at a bar in the world-renowned City of Dreams to accept the job at a European restaurant in Quezon City. 
Angelica and her twin sister Angela were both professionals. She previously worked as an HR 
supervisor in a manpower agency for three years while her sister was an Accounting Manager in a buy-and-sell car company. But their meager salaries forced them to consider a different career path.
"I resigned because my salary was not enough. The pay of a bartender is way bigger than that of an eight–hour, white-collar job like ours. We joined the Bar Academy program because we dreamed of working on a cruise ship and earning more to better support our family. Our father is a truck driver, while our mother sells barbeque and fish balls while tending to our small sari-sari store. We want to earn enough so they would no longer need to work," she reveals. 
Now, Angelica is excited to be living her new career. Apart from the good compensation, she is happy to use her skills from both the Academy and her HR profession. 
"I truly enjoy my job now. It is so alive, there are lots of people converging at our bar. This makes me more motivated to work. And I'm glad that I do not have difficulty mixing drinks. I could also engage more with my customers because I know how to deal with people," she says. This industry experience is the last one on Angelica's checklist before she goes off to board a ship. 
Since its establishment, the Ginebra San Miguel Bar Academy has become TESDA's premier showcase for its world–class training workshop and the venue of its many national events. It is also considered a model for private sector corporate social responsibility initiatives. 
OPENING DOORS OF OPPORTUNITIES 
News of the Ginebra San Miguel Bar Academy's world- class facilities and TESDA's industry–standard curriculum has already reached far and wide, attracting potential local and international scholars, as well as visitors that include investors and foreign diplomats. 
Since its establishment, the Ginebra San Miguel Bar Academy has become TESDA's premier showcase for its world–class training workshop and the venue of its many national events. It is also considered a model for private sector corporate social responsibility initiatives. 
The Bar Academy has also been the envy of other TESDA- accredited training institutions that wish to beef up their facilities. 
"When ambassadors of other countries visit TESDA, Secretary Isidro Lapeña always brings them to the Ginebra San Miguel Bar Academy to showcase TESDA and what it can bring to the community for benchmarking. And they are impressed to know that we offer this world–class education that provides mastery of the bartending competencies," says Shella Bawar, a bartending practitioner and the Academy's award- winning instructor. 
According to her, there has also been a significant increase in inquiries from people interested to enroll in the bartending program. Meanwhile, those who are currently studying are inspired and motivated to go to class every day and finish the program partly because of these facilities. 
Bawar is also happy for her scholars who were hired by the Bistro Group. This international chain used to only prioritize Hotel and Restaurant Management graduates from colleges and universities. 
"This means that there is now a paradigm shift, that technical vocational graduates, particularly of the GSMI- TESDA bartending program, are now highly regarded and being sought by the industry," she says.