The education sector, like most industries, had been on a standstill for several months at the height of the COVID-19 pandemic last year, All, except for the Ginebra San Miguel Bar Academy, a bartending school built through the partnership of Ginebra San Miguel Inc. (GSMI) and the Technical Education and Skills Development Authority (TESDA). 
While the rest of the schools and learning institutions were still in the thick of preparations for the big shift to online learning – the provision of infrastructure support and the readiness of its learners and teachers at that time, TESDA and the Ginebra San Miguel Bar Academy were already way ahead, being the first to conduct blended learning during the pandemic in July 2020. 
So, amid all the uncertainty, grief and fear gripping many Filipinos, the bartending school of GSMI provided the much-needed hope and security to its scholars through education. More importantly, it gave them the assurance of being one step closer to fulfilling their dreams. 
TEACHING IN THE NEW NORMAL 
Bartending Trainer Shella Bawar is one of three instructors from the TESDA Women's Center and from all academic institutions in the country to be given accreditation to teach blended learning. Blended or flexible learning consists of face-to-face and online learning, and distance learning which includes modules for the learners. 
After undergoing a training on virtual learning, Shella and her colleagues also became part of the Philippines' roster of regional lead trainers who trained other technical vocational educators in the country on this modality. 
Shella, a first-timer in virtual learning, found it challenging at first to teach a practical course like bartending. Apart from the challenges of slow internet connection, she also had to be creative in capturing and sustaining the attention of her learners. Shella would try various methods 
and explore other teaching platforms, such as Google Classroom and Edmodo, to make learning fun and easy for her students. She would conduct cocktail mixing demonstrations in front of her online learners, introducing to them the drinks and techniques in bartending. She would also give them a virtual tour of the Ginebra Bar Academy's facilities, located at the TESDA Women's Center, from time to time, to get them all excited and primed for the face-to-face classes once situation permits. 
Apart from the world-class education from TESDA and the access to state-of-the-art facilities of the Ginebra San Miguel Bar Academy, the scholars also are given P5,000 allowance for learning materials, P160 daily allowance, P500 for personal protective equipment (PPE) and $500 internet allowance. The bartending classes usually comprise of 25 learners per batch but given the pandemic situation, only 16 enrolled for the first batch and 21 for the ongoing second batch. The learners, aged 18 to 45, come from different social backgrounds. Among them are students who stopped school due to the pandemic, a delivery frontliner, a young mother and a market vendor. 
Classes are held from 7am to 4pm daily with offline and online sessions. Many of the working learners quickly adapted, too, finding ways to attend the classes even while on their jobs and sending in their assignments even with limited access to the internet. With the various challenges posed by the pandemic, Shella gives her students the flexibility to work on their tasks on their free time. Sometimes, she would even teach those who are unfamiliar with the online platforms or Microsoft Word on how to operate it so they could work and submit their output. 
"I learned to be more flexible as a teacher. I tried to be more understanding of late submissions and of difficult learners and became more open to other ways of sending their output. Flexibility was extended to them but in delivering the training, we upheld the quality and competency standards of the course," says Shella. 
According to this multi-awarded instructor and seasoned bartender, one of the most fulfilling of all her bartending classes since she began teaching is the fact that no one has dropped from it this time, amid the pandemic. In the past, some of her learners dropped out due to various personal reasons. But this time, she adds, all the 16 learners who began the two-and-a-half-month course successfully finished the online classes. All of them are also eager to start their practical lessons at the Ginebra San Miguel Bar Academy once face-to-face classes are allowed. After completion of the course, the learners will already take their National Certification (NC) exam.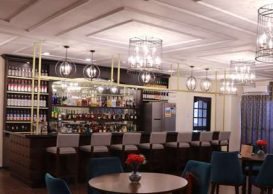 LEARNING IN EXTRAORDINARY TIMES 
Among the most determined learners in Shella's classes are Jerrald Manangan and Mary Grace Abainza. 
Jerrald, 45, worked as a bar steward for seven years at a cruise ship before he was forced to return home due to epilepsy. When he learned to manage his medical condition, he worked as a hotel staff in Makati until last year before the hotel closed due to the pandemic. Fortunately, he immediately found another job as a Lalamove driver, and during that time, also enrolled as a bartending scholar at TESDA. 
Although he has basic knowledge in cocktail mixing and extensive experience as a bartender, Jerrald wanted to further hone his craft and earn his NC to be able to land better jobs. 
"While on the road and working, I would stop and listen to the lessons using my phone. But whenever we have scheduled quizzes, I would go home right away so that I could be at my best when I take them. I do not have difficulty balancing work and the online classes; I think it's just a matter of setting priorities and doing what you love. After finishing this course, I would like to take cookery also at TESDA. Right now, I am also applying for a job as a real estate agent. I would love to work again though as a seaman and use my enhanced skills in bartending. For me, as long as I can, I will never stop learning new things and improving myself," shares Jerrald. 
Mary Grace Abainza, a mother of twin baby boys, had long dreamt of working abroad to provide a better life for her family. She wasn't able to finish her education due to financial problems but Mary Grace was determined to pursue her dreams no matter the cost. She took on various jobs as a fast-food crew, a factory worker and a call center agent. 
After giving birth, Mary Grace enrolled at TESDA upon learning how bartending could help her achieve her dream. She hopes to be like her aunt who now works as a successful bartender at a cruise ship. 
"My dream is really to have a profession and to work abroad in a cruise ship, so we can pay all our bills and provide a comfortable life for my family. I feel that this bartending course will give me the profession I've always wanted, it is a stepping stone for me to achieve my dream. That is why I strive to do all my assignments and projects even while taking care of my kids. When the kids are awake and we have classes, I just mute the mic so they will not hear the noise from us. Then, I do my assignments at night or in the wee hours when the kids are asleep. I try my best to comply with all tasks," says Mary Grace. 
"Whenever we have scheduled quizzes, I would go home right away so that I could be at my best when I take them… For me, as long as I can, I will never stop learning new things and improving myself," – Jerrald Manangan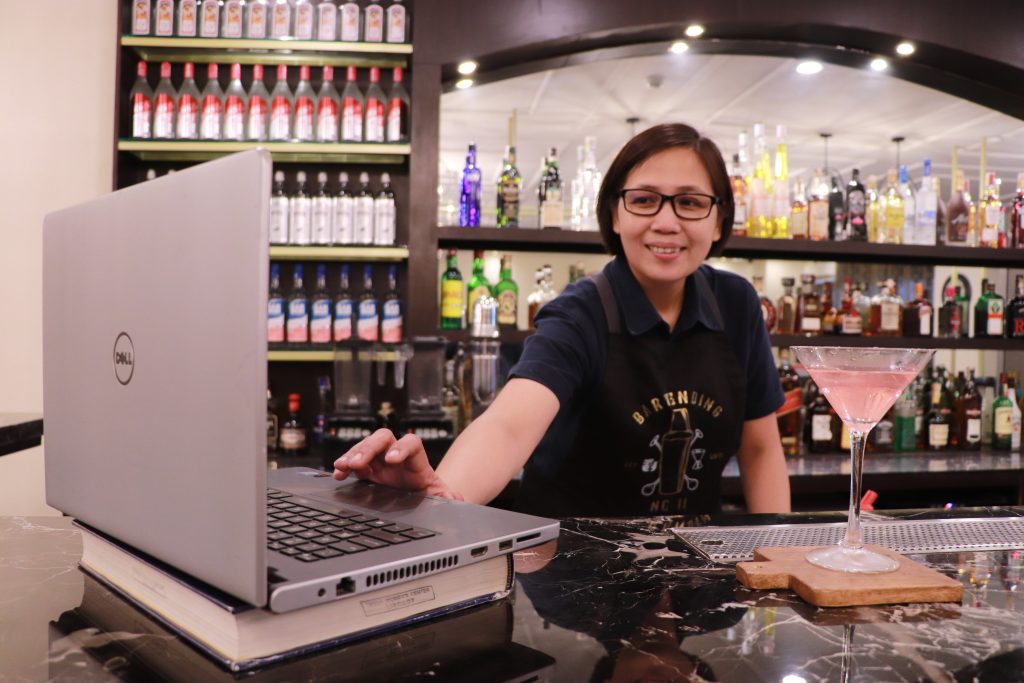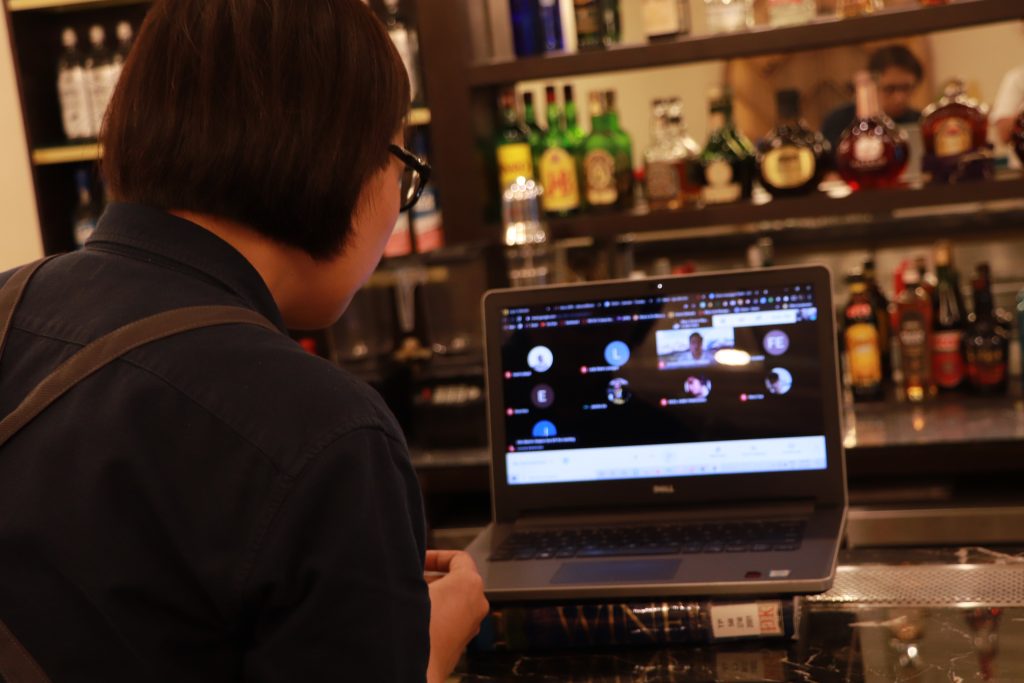 ELEVATING BARTENDING EDUCATION IN THE PHILIPPINES 
Adding to these world-class education and flexible learning, TESDA instructor Shella believes that the scholars stand a great chance of landing their dream jobs and becoming successful because they are training with the best and are using the industry standard, state-of-the- art equipment and facilities of the Ginebra San Miguel Bar Academy.
The academy is an offshoot of the GSMI Technopreneur Program. Launched in 2014, this first-of-its-kind initiative provided beneficiaries both scholarships and a means of livelihood. The 180 scholars from throughout the Philippines were trained in cocktail mixing, flairtending and basic business skills. Upon graduation, they were given mobile bars for their start-up business. This partnership with TESDA has since become a model for other private companies' own corporate social responsibility efforts. 
As part of its continuing thrust to uplift lives through education and livelihood, GSMI also established the Ginebra San Miguel Bar Academy in a bid to elevate the quality of bartending education in the country. Complementing the world-recognized TESDA education are its sophisticated, industry-standard equipment and facilities. Its features include a fully-airconditioned flairtending gym, a world-class and spacious bar counter, a fully-stocked liquor bar, an all-stainless steel back bar workshop and hotel-style dining area complete with modern furniture and fixtures. The flairtending gym with floor-to-ceiling mirrors, high ceiling and rubberized floor, is where scholars can develop their showmanship skills. 
"The Ginebra Bar Academy is the best showcase of classic bartending that we have so far in the Philippines. The hotel ambiance as well as complete equipment, tools and materials give our scholars the advantage among other students. With such an industry experience already being offered during training, the scholars would be able to confidently work and quickly adapt when they start working in the industry. The Academy also gives importance to the profession of bartenders and their big role in the food and hospitality industries. We are grateful to Ginebra San Miguel Inc. for the support and partnership that continue to give hope to our scholars, Shella concludes.