Callalily performs at the Gindependence Day Kick Off held at URBN, Quezon City.
Ginebra San Miguel Inc. (GSMI) kicked off the summer season recently with the launch of "Gindependence Day", a series of festivities that will bring flagship brand Ginebra San Miguel, GSM Blue and Ginebra San Miguel Premium Gin closer to consumers and to the hottest summer destinations in Luzon, Visayas and Mindanao, culminating with the grand celebration of World Gin Day on June 11, dubbed as "Gin11".
Starting on March 19, the country's biggest game and music festival road show "Ginumanfest," now on its fifth year, will tour the different regions of the Philippines, withbands, artists and celebrities tagging along, including Callalily, Banda ni Kleggy, Quest, 2016 Ginebra San Miguel Calendar Girl Arci Munoz, and many others.
The Gin Nation Truck takes the cocktail party at a weekend food bazaar near you. Catch the Gin Nation Truck and enjoy Ginebra San Miguel cocktails such as Manila Sunrise, Blue Fizz, Mojito Slush, Sweet Lemony Martini and All Nighter, along with your food tripping at Mercato Centrale, Maginhawa Food Street and other special events.
Who says art and gin don't mix? The Ginebra San Miguel Premium Gin Cart, which made its public debut at the recent 2016 Art Fair Philippines, held in Makati City, will make the rounds in the arts and culture space. Inspired by the rich heritage and history of the Ginebra San Miguel brand, the rustic feel of the Premium Gin Cart's wood and black metal finish is highlighted by the iconic Ginebra San Miguel logo, one of the earliest recognized works by National Artist Fernando Amorsolo. The Premium Gin Cart offers a mix of both artisanal and experimental cocktails using unexpected and local ingredients such as bacon, tomato juice and calamansi.
Ride to a great night with the Premium Gin Black Fleet, a vehicle exclusive for Ginebra San Miguel Premium Gin drinkers. The Black Fleet will take passengers bar hopping at the hottest nightspots in the metro to sample different ways to enjoy Premium Gin.
The ultimate millennial party drink, the new and reformulated GSM Blue will invade favorite destinations all over the country and will fly five friends for free to the summer's official destination Boracay island. Share your most memorable GSM Blue experience on Facebook and Instagram with the hashtag #GSMBlueSummerAdventure to get a chance to win a 3–day/2-night trip to Boracay on Labor day weekend.
Like the official Facebook pages of Ginebra San Miguel www.facebook.com/barangayginebra and GSM Blue www.facebook.com/gsmbluegin or log on to www.ginebrasanmiguel.com for more details and updates.
Barangay Ginebra San Miguel's Mark Caguioa tries his hand on mixing.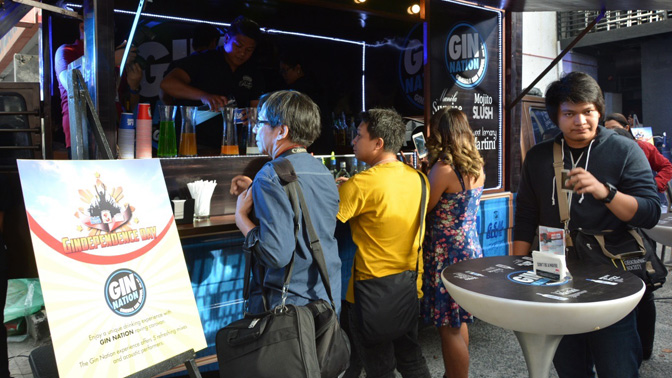 The Gin Nation Truck takes the cocktail party to your favorite weekend food bazaars.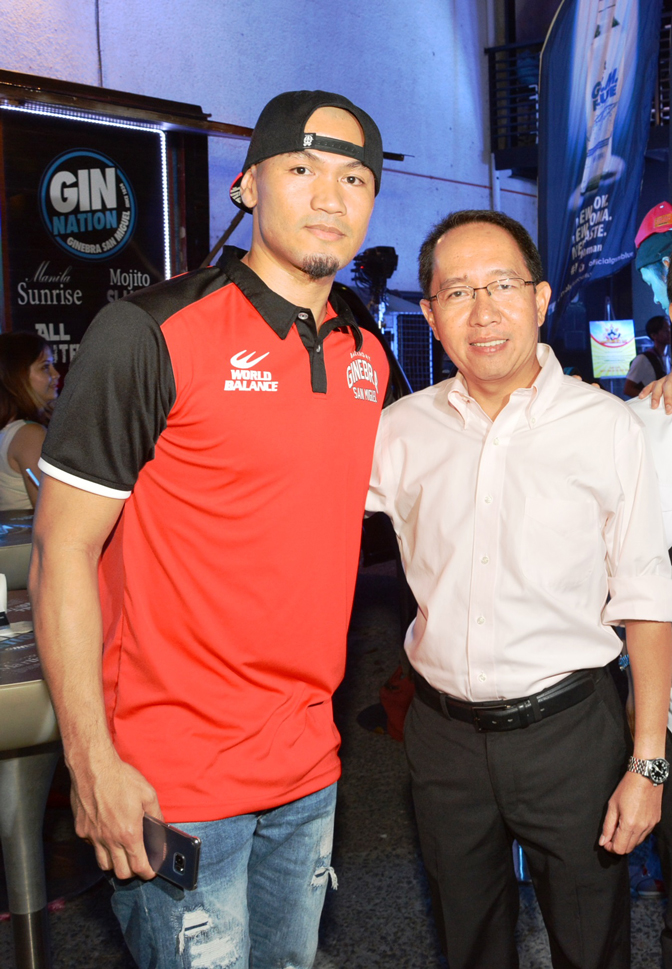 Barangay Ginebra San Miguel's Mark Caguioa with GSMI President Bernard Marquez.