As the company's newest business partners, GSMI continuously provides its CSR Technopreneur Program beneficiaries with enhancement seminars on mixology and bar operations to assist them in running their mobile bar businesses.
In line with this, the beneficiaries from different regions were gathered for a follow-up training session and a tour of GSMI Cabuyao Plant in Laguna for better appreciation of the business, its operation and products.
GSMI's resident bartender resources welcomed them to the Tandang Sora function hall of the Technical Education and Skills Development Authority (TESDA) offices in Taguig City. The first GSM Blue Flair Idol Champion Erwyn Unigo gave the beneficiaries a refresher course on flair tending, while top mixologist Dea Magboo taught them cocktail mixes using the Ginebra San Miguel Premium Gin variant, which they can offer to the upscale clients of their mobile bars. Both experts likewise share their secrets to success to the eager participants.
Launched in 2014 as part of the 180th anniversary celebration of the flagship brand Ginebra San Miguel, the GSMI Technopreneur Program is the first-of-its-kind as GSMI provided beneficiaries not only scholarships, but also a means of livelihood. This partnership with TESDA has since become a model for their private companies for their own CSR efforts.
A total of 180 beneficiaries were chosen from different regions in the Philippines who were trained to mix drinks usingGSMI products, along with basic business skills and a mobile bar business upon graduation. The impact of this project is long-reaching, as it has touched and transformed not only the 180 scholars, but also those of their families and their communities.
"We recognize the critical role that education and sure employment plays in building better communities. Gving back is part of GSMI's thrust and the company remains committed through its CSR efforts in helping secure a better future for the youth," said GSMI president Bernard Marquez.
Barangay Ginebra San Miguel's Mark Caguioa tries his hand on mixing.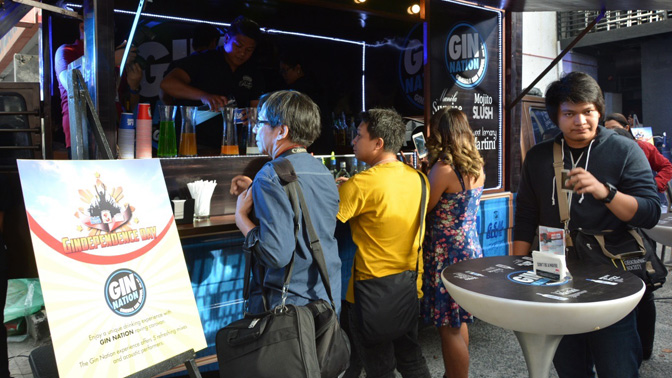 The Gin Nation Truck takes the cocktail party to your favorite weekend food bazaars.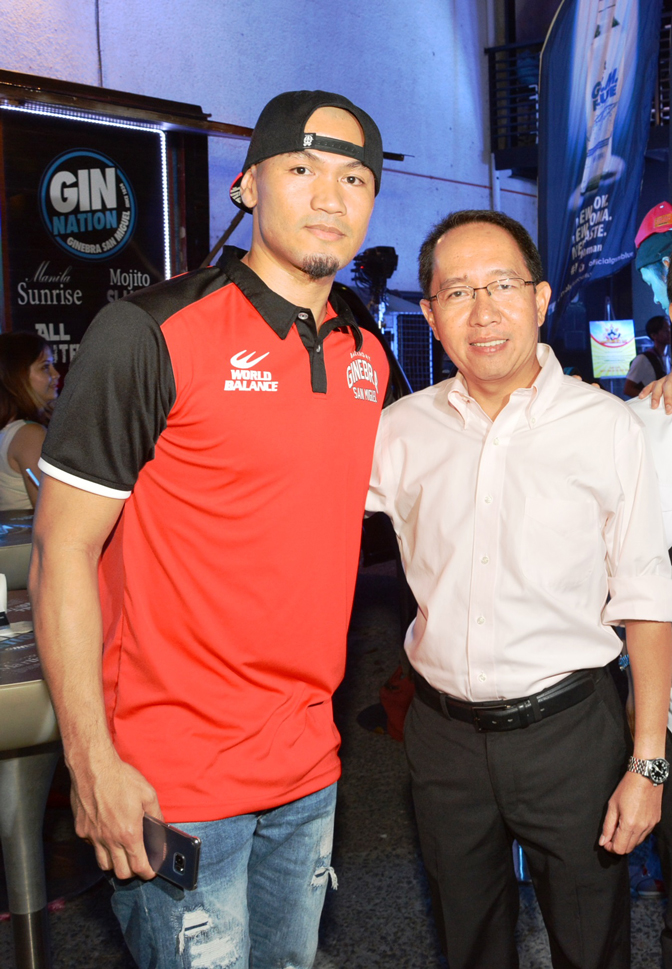 Barangay Ginebra San Miguel's Mark Caguioa with GSMI President Bernard Marquez.